By Jason Ellis
    On August 14, 1945, a day that captured the attention of the entire world, the Japanese surrendered, bringing an end to World War II. Over 16 million Americans served in World War II and 291,000 lost their lives. With each passing day, the number of living World War II veterans continues to dwindle across the nation, and with them go stories about one of the most pivotal and defining periods in history.
    The Central Cultural Foundation is on a mission to help preserve the stories of the men and women of this area who served our country during World War II. We are looking for WWII veterans who currently live in Central or the surrounding area who would be willing to talk about their experiences before, during, and after the war with an interviewer. The Central Cultural Foundation will video record the interview and have it uploaded to the foundation's website so that the stories of participating veterans can be shared for posterity.
    Help us preserve the real life history of this nation's greatest generation and call Mia Freneaux at 413-2162 to participate in the CCF Veterans History Project. You can also email Centralart@cox.net.
Click here to watch a video of the interview with Mr. Farley.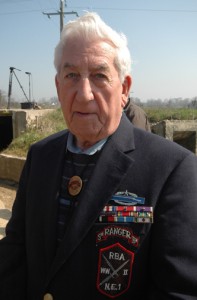 Biographical Data Form

Veteran name:
Dan Farley
Place of birth:
Jochin,West Virginia
Year of birth:
1926
Date of enlistment and rank in:
1942 – Private
Date of separation and rank out:
1959 – 1st Lieutenant (Battlefield Commission)
War(s) served in:
World War II (Korea)
Unit(s) served in:
A Company 5th Ranger Battalion (8th Army Ranger Company)
Locations of military service:
Europe (WWII),Korea(Korean War)
Battles/campaigns:
D-Day, The Brittany Campaign, The Saar Campaign, Irsch-Zerf Campaign, (InchonLandings, Munsan-Ni/ Operation Tomahawk)
Medals or special service awards:
Silver Star, Bronze Star w/ 1 Oak Leaf Cluster, Purple Heart w/ 1 Oak Leaf Cluster, Combat Infantry Badge w/ Star, Parachutist Badge w/ 1 Bronze Star
Was the veteran a prisoner of war?
No
Was the veteran injured in combat?
Yes
Interviewer and date of interview:
Jason Ellis, September 27, 2013